A WORLD FIRST
THE SOLIDARITY CUP
The Solidarity Cup is a once-off, marquee event that will introduce 3TC to the world. Not only is this a cricket spectacular showcasing South Africa's finest cricketers in a revolutionary new format, it also announces a welcome return to live cricket after months of empty pitches.
This first ever 3TC match will be contested at SuperSport Park, Centurion on Nelson Mandela International Day - 18 July at 11am. It will be battled out between 3 teams of world-class South African cricketers.

The teams are: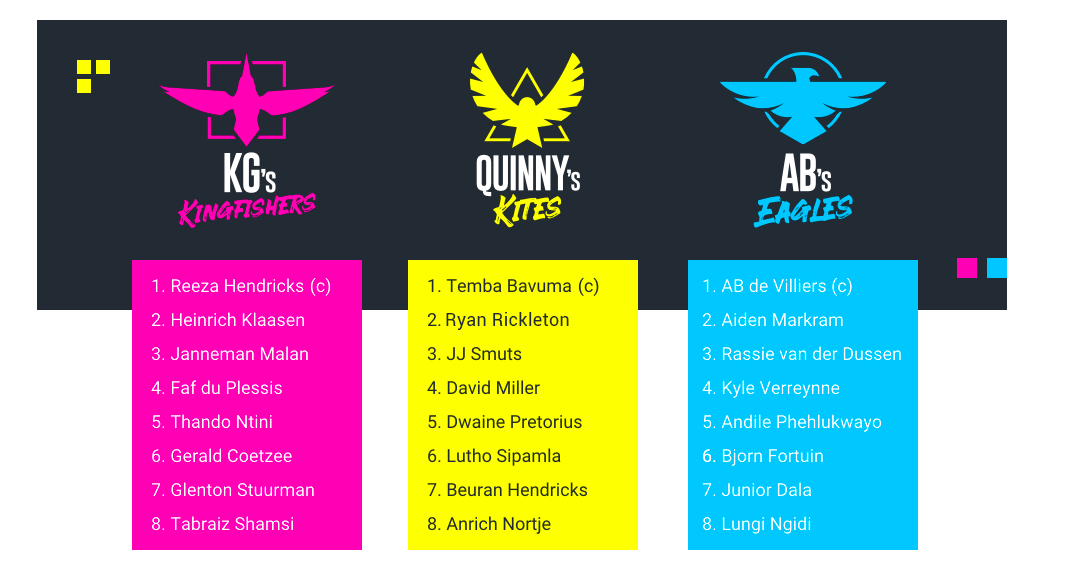 And all money raised will go to THE HARDSHIP FUND, a Cricket South Africa initiative to help all those from the cricket community who are enduring hardship due to the coronavirus pandemic.
BOUNDARIES IN THE TIME OF CORONAVIRUS
For the players of The Solidarity Cup, protecting the boundary is going to mean two things:
Preventing fours and sixes through athleticism, skill, courage and grit; and
Maintaining the boundaries required by social distancing regulations, through spatial awareness, discipline and a sense of shared responsibility
With the quality of batters on display, we cannot help with the first. However, we can help with the second. To make social distancing easier for the players, the Solidarity Cup has put certain coronavirus fielding restrictions in place. These restrictions require each of the six fielders to remain within his demarcated fielding position until the ball is bowled.
Protecting the boundary has never been more difficult. And more important.